"Saharan Dream":

Ooh to dream a dream or two.
Ooh and to believe in you.

Saharan winds to bring me wings to fly
so far away so far so high.
Saharan mystery
will charm the words
that mark the history
of wars and world

I'll cross the night
and come to you.
You'll take me to heights
beyond the blue,
the blue of a sweet Saharan dream.

Ooh so far across the dune
Ooh Saharan dream of you.

--------------------------------

Il existe une version française de "Saharan Dream", intitulée "Secrets du Sahara", interprétée par Debbie Davis et écrite par Jean-Pierre Lang (cf. lien Mange-Disque).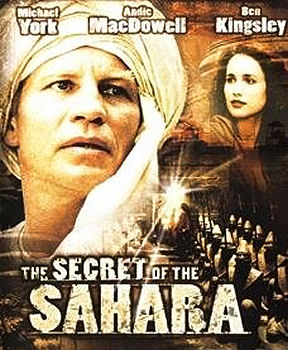 ---
TV Series - Infos
Original title : Segreto del Sahara (il) - Main title
Number of episodes : 4 (360')
Number of seasons : 1
Composer : Ennio Morricone (compositeur), Leonie Gane (auteur)
Performer : Amii Stewart
Actors : Jean-Pierre Cassel, James Farentino, Ben Kingsley, Andie MacDowell, Mathilda May, David Soul, Michael York
1st french broadcasting : 1989
1st french broadcasting channel : TF1
---
Good links
Soundtrack Collector (en)
Fiche mange-disque.tv
---
Form added by Emma_Peel.